We are excited to collaborate with Tomochain to explore high yield farming opportunities on LUASWAP and supporting the LUA token.
The Lunar New Year is coming soon, instead of giving lucky money, we will be giving $5 LUA for every $100 USDT staked in our "USDT Savings" pool.
USDT + LUA Savings
Fixed APY — 25%
You will earn $5 in LUA for every $100 USDT deposited
Term: 15 days
Pre-sale Period: Feb 6 — Feb 8 (3 days)
Lock-up Period: Feb 9 — Feb 23 (15 days)
Pool Limit: 10,000 USD
Notice: The pool has limited seats, stake early to reserve your spot. Earnings will begin on the posted start date.
Thank you and happy staking
Follow Roseon Finance:
The Marketing Team is responsible for promoting Roseon's business and mission. Working behind the CEO, the marketing team also acts as the company's public face.
Despite the erratic bear market, Roseon's developments and activities are pushing towards our goal to become the #1 crypto & NFT app in Asia.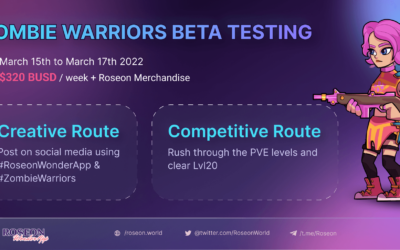 During the beta testing phase, we will also run the 'Shoot Your Way to Success'. Users will compete for a separate leaderboard