After many months of learning from the market and trying to adjust to its rapid speed, Roseon Finance has found a good way to bring BTC to DeFi. We would like to introduce Badger DAO — a decentralized autonomous organization (DAO) with a single purpose: to build the products and infrastructure necessary to accelerate Bitcoin as collateral across other blockchains. Its TVL has broken out at $2B, currently ranked top 8th according to DefiPulse. BADGER token has also been listed on the top tier exchange including but not limited to Huobi, Okex. So, Roseon Finance is glad to announce the new yield farming strategy.
Badger Yield Farm
– Deposit: BTC
– Earn: BTC
– Term: Mar 1st, 2021 — March 15th, 2021
– Estimated Return: 50% APY
Strategy Details:
– Swap BTC with WBTC
– Swap WBTC with DIGG
– Stake DIGG in BadgerDAO
-Rewards are swapped back to BTC and distributed at end of term
Good luck and happy farming
Roseon Admin
The Marketing Team is responsible for promoting Roseon's business and mission. Working behind the CEO, the marketing team also acts as the company's public face.
Despite the erratic bear market, Roseon's developments and activities are pushing towards our goal to become the #1 crypto & NFT app in Asia.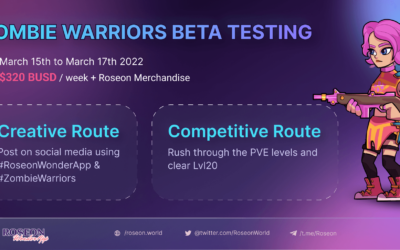 During the beta testing phase, we will also run the 'Shoot Your Way to Success'. Users will compete for a separate leaderboard