About Us
Roseon Finance is a mobile yield aggregator that manages your crypto + NFT portfolio and optimizes yield across DeFi and CeFi networks.
Job Title: Technical Community Manager
Salary: Competitive salary
Send your application to: [email protected]
Roseon Finance is looking for a Technical Community Manager who can help build a strong community with engagement and interactions for our community and by providing customer/technical support and social media management.
Responsibilities
Provide front-line Customer and Technical Support via Telegram, Twitter, FB, and other social media platforms.
Assist marketing team with content creation and prepare announcements and support marketing manager to carry out Twitter, Telegram, and other social media campaigns.
Assist in researching and evaluating new blockchain protocols, DeFi, and NFT trends
Support Business Analyst/Product Manager and maintain up-to-date knowledge of the application developments including system enhancements, outages and app related issues
Perform other duties and responsibilities related to community management and support.
Required Skills:
Can handle responsibility, meet deadlines, and exhibit composure in a fast-paced environment
Ability to function in a demanding environment with focus on completing assigned tasks efficiently and effectively
Be self-motivated, proactive and responsible
Customer-centric mindset, can-do attitude, communication skills, blockchain community connections
Excellent written and oral communication in English (Vietnamese nice to have)
Knowledge of social media marketing and event planning
Knowledge of GitHub, Python and Blockchain (Nice to have)
The Marketing Team is responsible for promoting Roseon's business and mission. Working behind the CEO, the marketing team also acts as the company's public face.
Despite the erratic bear market, Roseon's developments and activities are pushing towards our goal to become the #1 crypto & NFT app in Asia.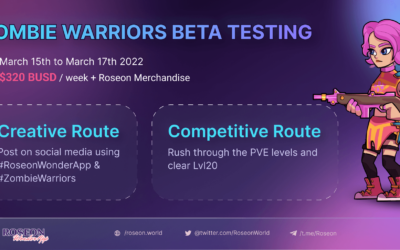 During the beta testing phase, we will also run the 'Shoot Your Way to Success'. Users will compete for a separate leaderboard