Roseon Finance is a mobile yield aggregator that manages your crypto + NFT portfolio and optimizes yield across DeFi and CeFi networks.
Job Title: Social Media Manager
Salary: Competitive salary
Send your application to: [email protected]
Roseon Finance is looking for a Social Media Manager who is capable of managing social media content and enthusiastic in crypto.
Desired qualification
At least 2 year of experience in cryptocurrencies or any technical field to be able to understand Blockchain & cryptos
Excellent command over the English language (Native English, or at least IELTS 7.5, or advanced English writing skill)
Understanding of cryptocurrency and blockchain technology
Ability to write long-form content on a consistent basis with strong research acumen.
Ability to break down complicated world of cryptocurrencies in simple language.
Ability to research different cryptocurrencies and crypto products on a daily basis.
Willingness to learn and perform under tight deadlines
Open for full-time or part-time job
Responsibility
Coming up with new ideas, writing, editing and publishing engaging content for various social networks, including Facebook, Twitter, Telegram, Medium, Reddit,…
Optimizing social media posts (language, tone, message) based on our target audience's behaviors
Coordinating with Marketing team to create advertising content (e.g. for events, product releases or new features releases)
The Marketing Team is responsible for promoting Roseon's business and mission. Working behind the CEO, the marketing team also acts as the company's public face.
Despite the erratic bear market, Roseon's developments and activities are pushing towards our goal to become the #1 crypto & NFT app in Asia.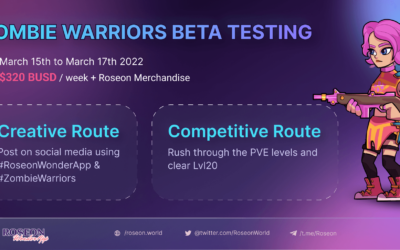 During the beta testing phase, we will also run the 'Shoot Your Way to Success'. Users will compete for a separate leaderboard