Another day, another feather in the proverbial hat for Roseon Finance. With its game-changing holistic app that connects the world of CeFi and DeFi, Roseon Finance is proud to announce its latest partnership with esports gaming platform 2CrazyNFT.
Collectively known as esports, the organized online tournaments spread across a variety of games and once only an entertainment, is a full-fledged industry worth more than 1.08 billion today. The merging of esports with NFTs was a match in heaven. The NFT market is big itself, with a total of $2.5 billion online gaming is quickly realising the advantage of using the unique tokens in their gameplay. In-game items, powerups and even the characters that are rare and unique can be represented through NFTs and this is where the true potential lies.
2CrazyNFT, More than Bragging Rights
Even with the multi-billion size, the NFT market is a strange land. Esports or other, the unique tokens have opened up the opportunity for people to invest in one of a kind content, but that's just about it. The ownership only guarantees the "right" to own. Take any gaming platform that offers NFT. You like a character in the game and you can own it through an NFT. All you can do with it is to show off to your friends, mates and other players, or at the least, sell it off. It doesn't offer you anything intrinsic though.
This is where 2CrazyNFT steps in and takes the egaming NFT to a whole new level. The platform offers its NFTs with what it calls "package deals". The NFTs have different offerings for the token holders that can range from the opportunity to play with or against other players and can even carry tickets to different tournaments around the world.
Other features of 2CrazyNFT include:
Staking with its native 2CrazyNFT tokens for lotteries and other rewards.
Easy and instant on and off ramps with both fiat and crypto-based deposits/withdrawals.
One of the most user friendly and easy to understand user experience in the industry.
Roseon Finance: Crypto for Everyone
With its ever-expanding services, Roseon Finance is an innovative platform that caters to users who want all the benefits of DeFi but are not attuned to the high tech market. The secret lies in its ability to leverage all kinds of DeFi options, including staking and farming (for both high yield tokens for risk-takers and downright to the low-risk investors who prefer a stable and fixed interest income).
The complex DeFi staking, token movements and farming are handled by the Roseon App at the back end, while the beautiful and easy to understand user interface offers a unique experience that is very familiar to novice and other people who are not tech-savvy.
While this merger of CeFi and DeFi does offer ordinary people to start their financial journey and enjoy the benefits of tapping into the ever-growing market and industry, this doesn't mean that Roseon Finance is not for the experts. It doesn't matter what kind of technical or experienced background a user is from. As long as they are willing to generate profits from their crypto investments, Roseon Finance is the best choice for them.
Download the Roseon Mobile App HERE.
Roseon + 2CrazyNFT: NFTs, Staking and a Lot More
Roseon Finance and 2CrazyNFT partnership is a lot more than just two platforms offering each other's services to their users. The teaming up is a deep commitment by the platforms to utilize their offerings to provide opportunities in the ever-expanding sphere.
First, Roseon Finance will be offering a dual rewards program for its users who wish to stake 2CrazyNFT tokens.
1. Stake $2CRZ to earn $ROSN and $2CRZ
Total Reward: 2,833,333 $2CRZ + 111,111 $ROSN
Duration: 90 days
2. Stake $ROSN to earn $2CRZ
Total Reward: 500,000 $2CRZ
Duration: 60 days
Download the Roseon Mobile App HERE.
Along with this, there will be several other investment options, such as a 2CrazyNFT token trading competition (full details to be announced with the launch of BSC integration). Roseon Finance will also add the 2CrazyNFT's NFT support within its NFT marketplace to give NFT holders a whole new market avenue, while its own ROSN users will gain access to the innovative NFTs.
With the partnership, 2CrazyNFT will return the favor by adding in support for Roseon Finance native ROSN token and allow staking of the tokens for NFT staking.
Sugar Kingdom is the best sugar rush experience that RoseonPad launched this 2022. Fill your portfolio with the colors of a rainbow lollipop by participating on our partner activities.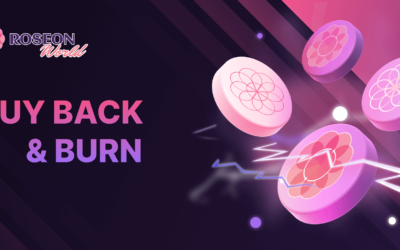 Roseon WonderApp, a licensed mobile crypto app that integrates CeFi and DeFi services within a...
We are thrilled to introduce an exciting content initiative with play-to-earn and Metaverse data directory UpOnly.